Where'd you get those images, Amazon?
Yeah. They're the same on other sites too. Except that's the only pic I found of what the front looks like.
Hoping these dont sell out by wednesday



people gonna buy in bulk to resell and be assholes
Reckon you'll probably be ok. There have been no official announcements yet, which makes me think this release may not be fully endorsed by the band? So usually puts people off until they hear something.
Ha, nice one. Good to know it's all legit
Glad to know it's official, because I preordered it on Amazon earlier, noticed the band hadn't said anything, and considered cancelling. Obviously I'm not doing that now though, lol. Definitely getting this.
Would love to get it…but my finances are kind of shitty right now

And already invested in the DF bundle…anyways…not a record collector after all…but that's looks so cool…
You can use the klarna app and pay it in 4 payments you wouldnt be paying hardly anything for it i did that for the df bundle and only paid 17.11 for the bundle every 2 weeks. Just a recomendation.
@Cher_I_Despair thanks for sharing that info. It's great to know that this is official and the band is aware of it.
Nitrorecords.com isn't online anymore, which had me slightly weary, but times change.
Thanks

I will check that out…although…my finances are really shitty right now

Thank you for the heads up! That was a no-brain purchase.
They are being sold in stores at urban outfiters Im just gonna pick one up in store and save on preorder and shipping bs
Also if you get it urban outfiters they support after pay sooo you can pay in installments like klarna.
Anyone know twhat the official street release date is for this? And also will they be available in record stores or strictly online?
The 18th of October. Ask your local store owner if they're ordering it. My local shop doesn't typically order AFI unless requested.
Looks like the release date has been pushed back a week to the 25th. Its also lowered in price on Amazon with PO price guarantee.
Through the merch store, everything is released on the 25th, except the vinyl which is pushed back to nov 1st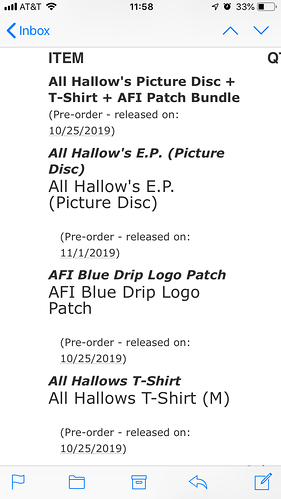 I pre-ordered from Fat Beats and it also is pushed back to 10/25. And the price increased from $16.99 to 19.99. These recent releases have been weird.
So does this mean only pre-order sold out and the shirt, patch and vinyl bundle will be available to buy on October 25th? Or am I just wishful thinking