My Flag arrived. 2 down, 2 to go. Seriously, how much of a hash can you make of a bundle release

. It's in the name, bundle. As in altogether. Thank fuck I'm not paying for the individual postage.
Haven't check the mail…so hopefully mine arrived…but…isn't it like damn tiny? I mean…the Missing Man one was huge…and this is tiny

Another keychain that I'm probably not going to be able to use…
BTW…I saw that the patch is B&W…haven't got mine so cannot confirm…
Yep…so much for a bundle that comes in pieces

Not that I care so much…but the "bundle" losses its purpose…
My biggest disappointment with the bundle is that NOT all ships have the "20" on the flag.
Instead of a key chain, how about a fully-colored Black Sails MUG? Would've been just as nice if not nicer IMO.
Finally got a copy of the Black Sails EP. Interesting note, the version of Porphyria on the Black Sails EP is missing the sustained guitar at the very end of the song.
Patch arrived, in a ridiculously oversized envelope
You're in the UK and you've gotten your shirt, flag AND patch?! Lol I'm in the US and only have the shirt so far

what a mess
I'm still missing the flag and patch.
Something arrive to my old place…waiting for my former landlord to come back from vacations so he can re-send it to my new place

Weird that it wasn't redirected like the t-shirt and flag

Is anyone selling any of this bundle? If so id like to discuss compensation. It went out of stock the day it came out and AFI sent me an email saying it was back in stock, so igota confirmation it was coming… A day later AFI was like "Whoops. We made a mistake." I desperately want this bundle though. Anyone get anything they didn't want? I'm a Large or XL in shirts. (Broad shoulders.)
Thank you all,
:>Charlie.
Just got an email confirmation for an order for a black sails shirt, I assuming they're sending out new shirts to anyone who emailed them about their shirt being crooked. Hopefully shirt #2 looks better!
I really hope the band drops WMG after this nonsense. Its been weeks and I've only received the keychain so far. Their customer service is horrendous and has offered zero help. I have a feeling they're just going to cancel the remaining orders and refund everyone because they can't seem to figure it out.
Got all of the bundle now. 4 separate packages, and the patch and keyring packaging were a total piss take. This is what the keyring came in, on it's own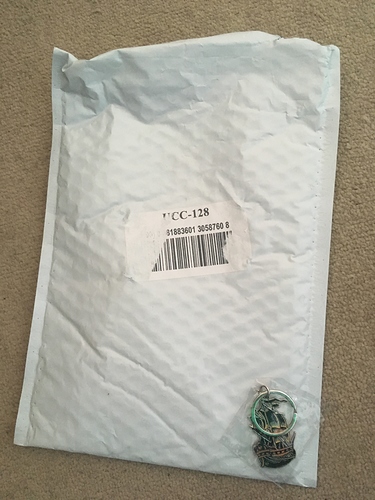 I guess I should be thankful that none of it screwed me over with import tax
I got my shirt a month ago, got my patch last week, and got my keychain yesterday, so they're still sending things out piece by piece. I'm just waiting on the flag now… hopefully it arrives soon! And I'm in the US
Still need my flag and patch…
That's mad. I've got everything now in the UK. I literally don't know how the merch company have managed to stuff this one up so badly.
Don't know if anyone else follows Enter Shikari, but they are an example of how you do everything right. Their fb forum has their management team on it. They engage constantly with the fan base, bring out merch because people have requested it in the past, or look to the fan base for feedback before going for a full print run, constantly update you with what's going on and sort out the best they can the issues you might have. It's a level that goes way above any other band I follow, and it really fucking depresses me how far behind AFI have fallen with this sort of thing, when once they were the front runners.
My Keychain arrived yesterday

So I assume that the box that ended in my old place is the patch…I just need to wait for my former landlord to come back from vacations so I can get it

I hope AFI or management or whoever the hell manages that…try to fix this…hate to have almost everything and see people still waiting