Oh go on then. Let's see how much they can screw this one up

Wow, I totally fucked up and accidentally ordered TWO bundles… shit… lol
Well, this bundle I'll definitely use. I'll admit that a lot of these bundles I keep in the original packaging for my collection, etc.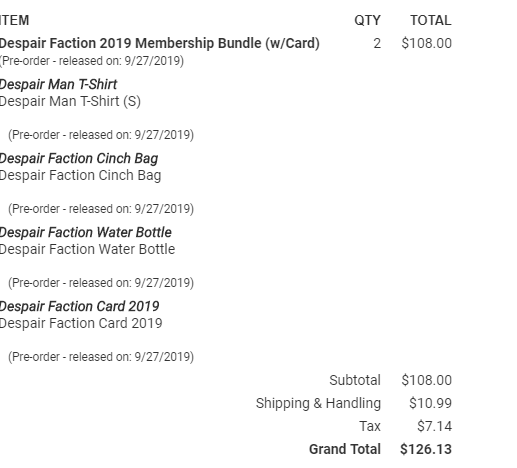 Damn…just when I have a lot of expenses coming up

Guess I would need to cut on something because I'm getting this bundle no matter what

Just need to explain to my wife why I'm keeping getting AFI stuff

I FINALLY JOINED IT!!! IM SO EXCITED!!!

Finally got mine

I mean…purchased mine…let's see how delivery goes for this one

Got the one with the card just to have the new card and also updated my address

Maybe they're not selling as many as anticipated? Is it even being advertised by the band?
Just keep the damn thing open, you know like how it always used to be back in the day
Wouldn't surprise me given the current issues with the online store
I finally, today, received my shirt.
I saw this thread back on top and I could order myself a replacement card again. Maybe one day
Got my bag

I was actually expecting the shirt…but at least I got one piece of the puzzle

I am a big fan of the new shirt comfort. Since I accidentally bought two bundles I'll definitely be wearing mine often.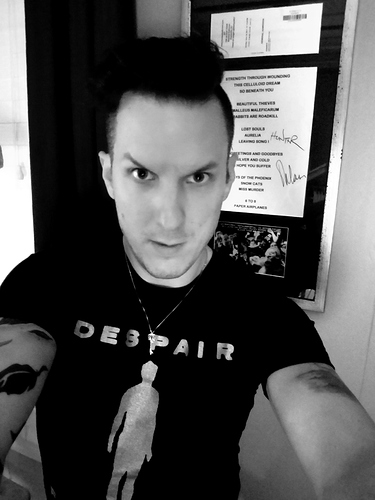 Got my card today…not the quality I was expecting…although it looks awesome

So… during the latest tour the cards didn't matter… so the cards are only really for shows where AFI is headlining?
I hate to say it, but it feels slightly gimmicky.
I wish either AFI cared about these forums or they gave us DF forums.
I'll note that the web store hasn't helped my feelings on this…
Finally got fed up and emailed the web store. 2 weeks later I finally get a response. The generic "warehouse issues, it's unacceptable, we're sorry, blah blah".
Anyway, within a few hours of that I get two more emails. Shipping notifications for the rest of my DF stuff, and the crash love stuff I ordered.
Could be completely coincidence, or they may actually have pulled their thumb out of their asses after I complained.
I'm new here with posting so forgive me if I do this wrong. I got my bag, card and bottle all at different times. Love them all. Still no shirt. Any info on how to resolve this?
If I were you, I'd just wait. That's the response we get when we reach out to customer support OR they offer to cancel that part of your order.
The merch store is an embarrassment.
You WILL get your shirt though… I just takes a while.