Derek on Instagram just said silver repress. But I don't know if that's what it's going to be.
I think someone posted that as an April fools a couple of years ago, didn't they? The calendar invite is from 7-11pm PST so I'm guessing an anniversary show or a film or something.
Yeah maybe they are going to do a small tour of the album. Anyway I think Derek is the one who did the AFI Bodies sandwich toaster for April fool's day, so I don't believe him.
I'm back to not getting emails again and don't know how to fix it. I signed back up for afireinside.net but I can't find any of my old information.
I've been DF since 2003(?)
I was going to start a thread if no one else had, as this has me suitably intrigued as well. The twentieth anniversary of STS is coming up next year, so fingers crossed they're planning something really special!

Have you sent an email to AFI HQ? They should be able to sort it out for you.
The fact it's been 20 years makes me feel SO OLD
I've sent emails to despair faction, afihq and someone else. Lmao I can't remember who it was… Afireinside.net I think?
I signed up for a new email list, but I want to make sure they have my DF info. The ticket prices through DF make it possible for me to take any or all of my four kids when there are shows near us.
I don't think DF get ticket discounts any more, do they? At least I don't remember seeing anything advertised for this current tour. I'm in the UK though, so we just don't get any shows, let alone discount tickets

Someone posted this on Reddit so I guess I'll be making the trip from the UK to LA in five or so months.
What's the Forum like as a venue? How big is it?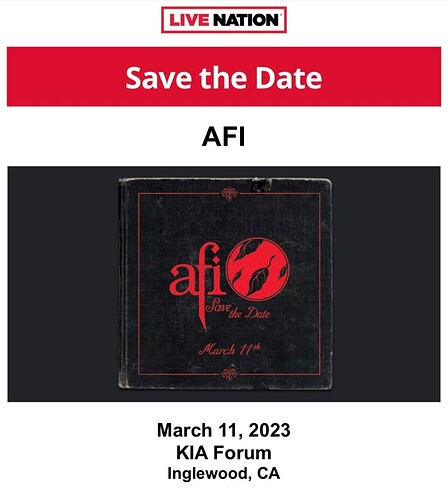 Not gonna lie, I would consider buying a Bodies sandwich toaster

I don't know where all this time has gone!

I'm sorry, I'm not sure what else you can try…

Like @darlingiwantto said, I'm pretty sure DF members don't get discounted tickets anymore.
Thank you for the information guys. I thought I had seen that tickets through the df had been cheaper but could only be bought in lots of four(?) last year… Maybe they just limited the amount you could get and price was not withstanding?
But I appreciate everyone's input and thoughts.
No one has answered any emails yet, but with our Beautiful Theives (

) on tour, I'm sure the staffs for everything are all crazy busy. So time will tell.
I've tentatively booked a hotel for this already - anyone else planning on travelling from London/the UK?
The Forum is pretty large (like 15-20k people). Professional sports events and huge concerts are held there. I'd guess it's probably the biggest venue AFI have ever headlined. Feels weird to think about seeing them at a place like that, but If they can actually sell this show out, I'm rooting for them.
Oh man, they've played some pretty big festival slots in the UK but the biggest venue I've seen them at over here for a gig only holds 4,000 or so people, that's huge
Im usually pretty good at reading all the posts but in case i missed someone having said this i believe afi will be playing sing the sorrow in its entirety.