Anyone know the Despair Faction presale code? Haven't received it. Thanks!
Presale code? Fuck that'll be cool!! Fucking can't wait for LA and SD!
Please send me a photo of your DF card or a screencap of a DF email and I'll share the presale code with you.
Remember: Email DespairFaction@afireinside.net if you're having issues with getting DF emails
I want. DF card! How do you gain one?
i lost my card in a move years ago but I still have my pin and poster and armband and patch. Or is there something else I need?
Can you screencap an email from the DF?
also need presale code they are going on sale soon please help me out
i just rejoined with a new email i never recieved a pin or card back in the day either sadly and im trying to get this presale code
I was a member way back in the early 2000's - had the wristband and have a membership card somewhere… but they don't have my email I don't think. Are you still distributing the presale codes?
Hello Storms. Sent you an email to get the code as well. Please see the uploaded image; if you can help- greatly appreciated.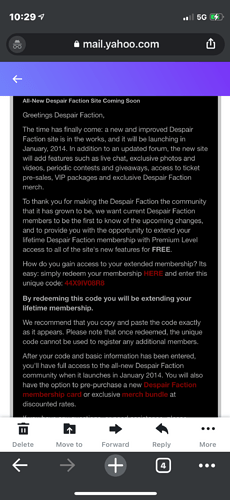 Would like to get the codes as well. Have looked everywhere but no luck. Any help would be greatly appreciated.
looking for presale code of san diego. been a member forever but never got a email this morning