I haven't seen the set list yet, but Eirinnie is live streaming and they just played Synesthesia
But home is nowhere im fucking deceased the one song I want to experiemce live in person before I die amd they did it tonight uggggh im killing myself for not going
And they played Now The World. If I hadn't seen most of that streamed I would hardly believe it
Fuck. Off.

https://www.setlist.fm/setlist/afi/2018/the-observatory-north-park-san-diego-ca-4394b323.html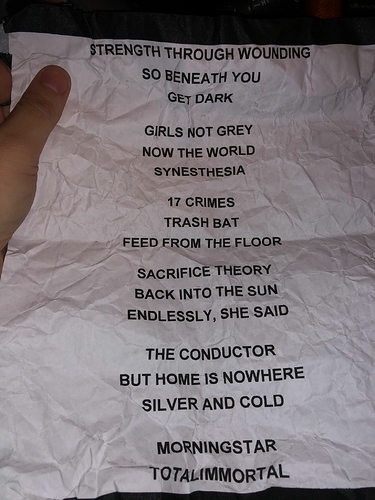 Goddamn, Synesthesia was awesome, performance and crowd reaction.
Said it yesterday, but Get Dark rules live. Finally seeing But Home… was really good too.
Favorite quote of the show, from a girl behind me, when some people around us were doing weird, bad, too-fast rhythmic clapping over the beginning of Morningstar:
"What is this? Do we do this during this song now?"

Soooo jealous of those who got to go to this show! I was in stupid Europe (ok not really stupid)
Davey covered my eyes as he sang "Cover your eyes and we'll die together." I died, but he did not. Empty promises…
Seriously??? I really hope someone got a photo of this.