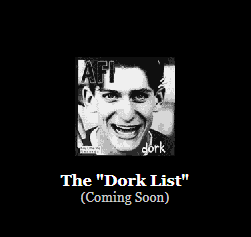 Welcome to "The Dork List", featuring the stories, names and locations of AFI's original and very first record release from 1992. Enjoy and be in awe. (only 210 exist)
@Acidpickle @dnlkdwll @Nick210 @_tonibell @Blag @LordOfTheLeftHand
Attention all Dork owners:
I'm looking to bring back "The Dork List" from the old version of the Official AFI Website. To my knowledge, this list never actually surfaced. Whether or not Dork owners submitted their information or not, I'm not sure. Regardless, here's what I'd like to do…
If you're a Dork owner, simply reply to this thread with the following information:
Your name (first and last name initial ONLY)
Your Dork story of how you obtained it and what it means to you
Your State that you live in or Country (do NOT post your address)
So far, we're at 8 out of 210! See below!
For the record, "Dork # 1" does NOT necessary mean it was the first one. What it means is the first one to be entered in this particular fan-made "Dork List".
---
(Dork # 1) Matt D aka @insectpins from Chicago.
"Reading about the early vinyl-only releases that AFI put out is what started me on collecting vinyl. I used my high school graduation money to buy copies of Fly in the Ointment and Behind the Times. But I never saw copies of Dork up for sale. Seven years later a copy went up for sale on Discogs for less than $400 and I bought it. It sat in customs for a month before finally showing up at my apartment."
---
(Dork # 2 & # 3) Derek Y. aka @Acidpickle from Saskatchewan, Canada
"Dork 1.
I had always dreamed of getting my hands on Dork, ever since I got into AFI in 2012. Money was always a concern, and I knew I would have to have a real job to make such a frivolous purchase. After AFI released Blood, a seller from Sweden was getting ride of his Pre-CL collection, and I was the newest owner (at the highest sale price at the time) for an absolute mint condition Dork. I also snagged EPAW (pink) and BTT (Opaque black) at the time as well. The shipper had the item returned because the post in Sweden is very odd, however, he mailed it out again, and I got the holy grails (customs free) within two weeks.
Dork 2.
Some kid was trying to get rid of his Dork (without any sleeves) on the AFI buy and sell on Facebook. I messaged him, and he said he would ship to Canada all in. I figured the price was too good and then I could have a copy to spin, and a copy to frame, so I made the purchase. The kid shipped it to me in the most pathetic packaging I have ever seen in my entire life, and then record actually came in bent (FML). I have since listened to this record and it works just find, but it is not aesthetically pleasing. After I told him what happened, he sent me the Bacteria Sour 7' for free. Over the years I got to know Geoff pretty well, and he actually ended up sending me an original, never to be sold withdrawn Dork sleeve without the Key Lime Pie label on it, so that I could have a full second Dork copy. I have since swapped the w/d sleeve with the better condition record, and put the original sleeve with this inferior copy."
---
(Dork # 4) Nick T aka @Nick210 from Feltham (UK)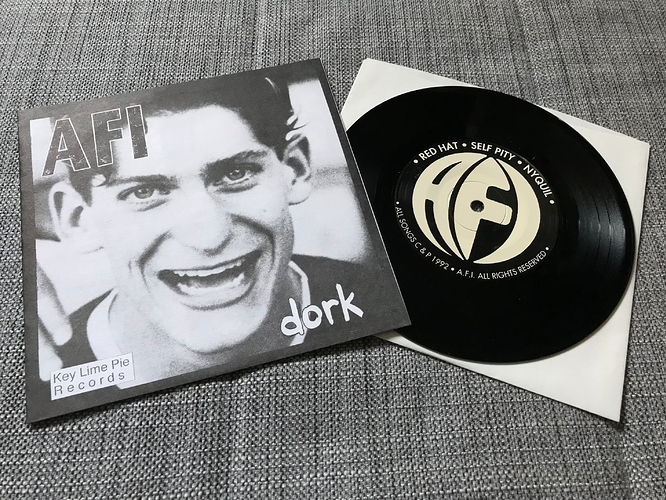 "As I've probably eluded to before in other threads, I got into AFI in TAOD / STS era, having seen them support The Offspring in 2001 at Wembley Arena.
From that point onwards the obsession grew and I actively looked to build my collection where possible. Thankfully for me (getting into AFI when I did) I was able to pick up much of my collection when it was released so haven't had to pay well over the odds for it. I'd managed to add some of the older 7"s over the years but mainly just original All Hallows', FITO, Bombing the Bay, This is Berkeley etc. None of the first 3.
Like many of you I've floated in and out of the collecting side but it wasn't until the Blood Album came out I really started to connect again, get excited about all things AFI and naturally stated collecting again. At this point I also discovered the Trading Group on Facebook and managed to obtain a sweet Purple copy of VPOY and started getting into different coloured Nitro pressings and other such unnecessary things we collect like the different country CD albums.
I remember seeing the copy of Dork that @Acidpickle went on to win on win on eBay, and I think that's the first one I ever say for sale! From that point I knew that I would need to add that to my collection. I just thought that there's not really any point of having 95% of everything that's out there and avoiding buying Dork because it's too expensive.
It didn't take long and one soon showed up on Discogs. The seller wanted $1200 for it!!! Which did seem a little bit fucking crazy but it wasn't miles off what they had been going for. I contacted the seller who sent me pics that I was then able to verify with Geoff. Turned out he also knew the seller which was a bonus. I made him an offer which I'd based on their previous sales price and he accepted. I had to sell 2 guitars to fund it (an Epiphone Slash AFD Les Paul and a Jackson King V) but the copy of Dork was in such good condition that I was more than happy!
The other ridiculous part of this story is that I didn't want to get stung on Customs and pay 20% of the amount I'd spent on top. I took a huge gamble and got the seller to mark the value his end at $20 so that it bypassed the system. Thank fuck nothing went wrong and after a week or so it had made its journey safely over the pond and was part of my collection!"
---
(Dork

#5

) Maximum Rocknroll archives in San Francisco; story courtesy of Brian aka @LordOfTheLeftHand and Miranda from the Maximum RocknRoll Archive - See Below!!!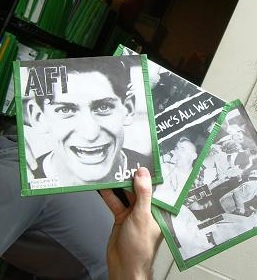 In 2007, one of my old bands did a short west coast tour and we were lucky enough to get to play a fairly well-attended show at Gilman St. After the show Paul Curran (from Crimpshrine, Monsula, Onion Flavored Rings, and a zillion other bay area bands) talked to us and told us that we should come check out the MRR compound the next day.
The space has a well organized collection with just about every record that has been submitted to MRR dating back to their start in 1982. It's nuts. So we got there and hung out for a little bit, picked some songs for the radio set that was being recorded that day, and pawed through the record collection. I instantly cancelled out any punk credibility I might have gained by being there by grabbing the first three AFI records and taking a picture with them. (No one actually said anything like that to me, but I remember thinking it, because 2007 me is an AFI/self-deprecating jerk.)
Anyway, very cool spot. You can see a picture of a small section of it here: http://www.maximumrocknroll.com/archive/ According to their contact page, you can also contact them to visit if you're in the area.
Hey Scott, (story from the Maximum Rocknroll Archive from reaching out to them about having a copy of the Dork)

Here's a picture of Maximum Rocknroll's copy of "Dork." Like the vast majority of the 51,000+ records in our collection, this would have been sent to us by the band or the label upon its initial release. And like every other record in our collection, green tape has been placed around three sides of the sleeve. "Dork" resides in our locked vault along with all the other rarest and most valuable records in our collection; it currently sits between Accident's "Kill the Bee Gees" 7" from 1979 and an Agent Orange's 1980 self-titled 7". But don't despair, I assure you that we do go in and play the records in the vault – they're not sitting there gathering dust!
If any of your readers aren't familiar with Maximum Rocknroll, we're a punk magazine that has been publishing continuously since 1982 (just wrapped up issue #420!) and we're also home to one of the largest (if not the largest) archives of punk records in the world. You can learn more, subscribe, or donate here.

-Miranda
(08.24.2019) Some additional history on this Dork copy (Maximum RocknRoll Archive) from former AFI Bassist, Geoff Kresge:

"That Dork that's in their archive was one of my personal copies. I sent it to Tim, dirwectly, in trade for advertising space in their zine. He called me and asked me if I could find a copy for him and I sent him the record but never cashed in on that ad space."
(Dork # 6) @4ibanez aka Steve from the UK - Dork and his story below!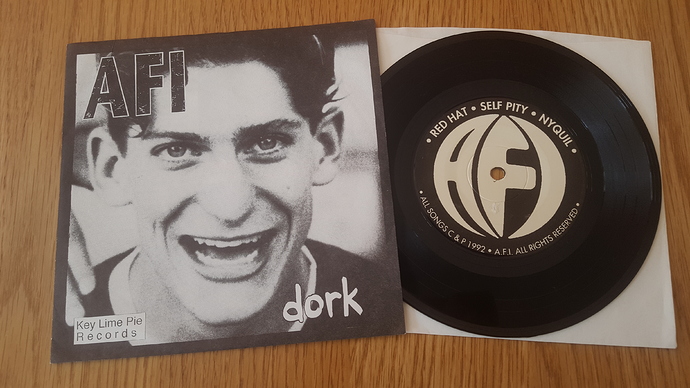 Sorry for the huge delay. So many priorities these days!

I got into AFI back in 2002 after hearing their ridiculously good song on the Short Music for Short People compilation (man that's an amazing record)! I took a chance on the Art of Drowning, as it was the latest album and I loved the artwork. And the rest, as they say, was history…but here's a condensed chunk of it about collecting for the 'Dork Lists'!

I started collecting AFI sometime in 2006 when my obsession had reached total fanboy status. I grew a carbon copy of Jade's hair and everything ! Originally my aim was to try and get hold of all the b-sides, so buying the singles on eBay etc.

One day I stumbled across Alli & Ixnay's AFI Series site. The discography just blew me away - so many rare treasures… muuuuust own! Every day for a year 1-3 parcels would show up and it was like xmas every couple of days when something really cool showed up - it was f*cking addictive!

At this point I was studying and working part time, and some months I'd be spending more than I was earning (actually most months). I thought things would peak with The Days of the Phoenix EP, which I needed for A Winter's Tale. This beauty was frequently selling for £100+ at the time (this was before some asshole in China flooded eBay with pretty convincing bootlegs - the prices never recovered). But things with my AFI collection just kept escalating… I got something like 20+ different versions of STS and the same for DU, because they came from different countries! It was almost as if getting all these records, albums, singles and promos was somehow needed to prove how much I loved AFI - madness!!

My first Key Lime Pie record was the 1st pressing of the Behind the Times EP (1/400) - I worked at least one 10 hour night shift at the Supermarket to pay for that (I don't remember the crappy wage exactly). I've still gotta say now, it was worth every minute of filling chiller cabinets with butter and yoghurts to the tunes they play on Kiss at 3am! I'm pretty sure an Eddie Picnic 1st press came within a couple of months - even nicer because of the pink vinyl and rarity (mine is #105/200).

I'd seen a couple of Dork EPs come and go on eBay, including a promo copy that sold for $1,700 if memory serves… I was 19, and there was no way I could afford that! Finally another regular Dork showed up, and this time I was poised! As the final few seconds counted down, I emerged from the shadows like a ninja and struck (bid: $700, place bid, then with 4 seconds left cover eyes, grit teeth, confirm bid. Actually that wasn't very ninja like at all). Like usual, the price rocketed a bit at the end, and when I refreshed the page after the carnage I couldn't believe it - I'd won! It shouldn't have been a massive surpirse, cos that motherload of cash was the going rate at the time - and it's even more now! It must've shown up after 1-2 weeks of twitching the blinds everytime the postman came up the street. Somehow there was no import fee to pay, and it just crashed through the letterbox one day like any other rubbish!

About 6 months later, it was revealed that a number of bootlegs had been sold on eBay (allegedly by one of the former memebers of Loose Change). Some guys who at the time had much bigger collections, and more knowledge had been caught out. I had no idea if mine was another one, although I already ascertained it had come from a different seller. I checked the etchings, and was massively relieved that I'd got the real deal. Phew! As we know, there are even rarer bits out there, and being an über nerd I do hold some of them with more value personally (test pressings to be specific). But it's certainly hard to beat the iconic status of Dork EP!

Anyway - here it is 25 years later, still in great condition… thanks for reading!
(Dork # 7) @Cher_I_Despair aka Jacob H, Greenville, NC (US) added 11/2/2018
I live in Greenville,SC. Well, as you may know I toured heavily these past 2 years certain things didn't go according to plan. This past Cali and Vegas trip for my 30th BDay, so I resulted in selling some double color variants and a few I didn't have doubles. Each person who helped me recieved their own signed setlist from my mass collection I have acquired. It's my way of saying thanks for being there. After financially catching back up.

I knew a local in Charlotte, NC who had one she was selling. So, I made arrangements to pay little by little on that and most of the collection I've acquired today. I feel the cliche of "Be good to others and good things happen to you" comes full circle and In every case It's most certainly true.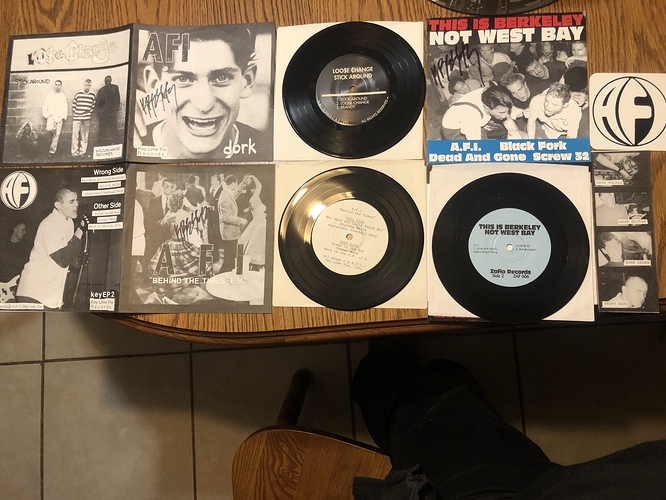 (Dork # 8) @katz-s from Los Angeles, Ca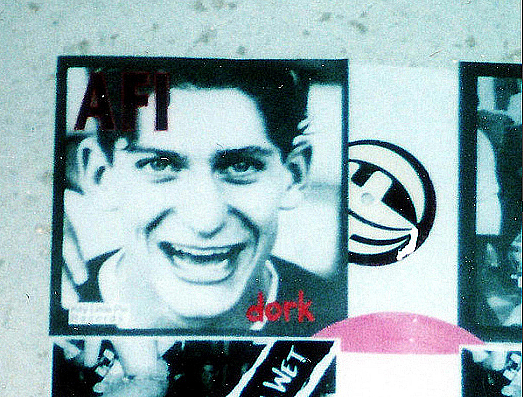 I originally posted about my copy of the original dork list back in the mid-00s, as I had the first several AFI 7"s, and in this case was in regards to my uber rare promo copy of their split with Loose Change, aka "Dork". I was a fanzine writer/photographer from 1985~2000, of a prominent Los Angeles based punk rock fanzine. In 1993, a copy of "Behind The Times" came into my inbox for review… I gave it a really thick review of it, one of the first for the band, to where after the issue was printed, i would clip out the reviews our of a spare issue and glue them to postcards to mail my reviews to record labels, in this case Key Lime Pie Records, run by former bassist Geoff Kresge. He was pretty impressed with the really descriptive and long review I did of their record to where he sent me for free a rare promo copy of their first 7", the split 7" with Loose Change (aka "Dork") for free. I'd be one of 10 people who would have one of the rarest of the "Dork" 7's… a promo version. I might be the only entry for a promo "Dork". Later, Geoff would send me or have the label send me their 7" releases… I would have a first press pink copy of the live 7" and a black vinyl repress, too. A glow in the dark press of "Fly In The Ointment", split with Heckle, split wth "Swingin' Utters, "A Fire Inside"… I had contact with Davey just last night, contact with Geoff and his gf Amy several months ago.
Do YOU have a copy of the original Dork 7"? Sign up now and tell your story to be added to the list!