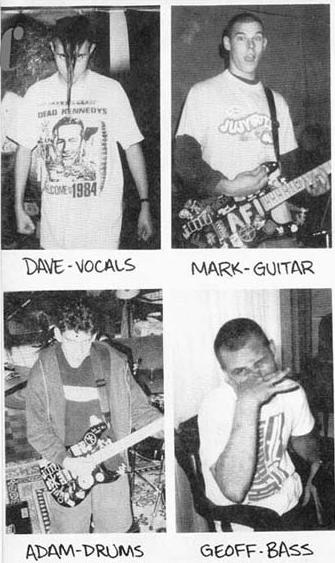 AFI started in the Summer of 1991 in Ukiah, California. It all began when Davey was in High School and he met Vic Chalker and Mark Stopholese. They were sitting at lunch and they said, "Hey, let's start a band". They called dibs on instruments - Mark said, "Adam plays drums", and they went to go ask Adam if he wanted to join their band. They recorded two demo tapes called "Cool like Jonah" and "Cooler than Jonah". These were recorded in the recording studio of Bonnie Raitt's brothers.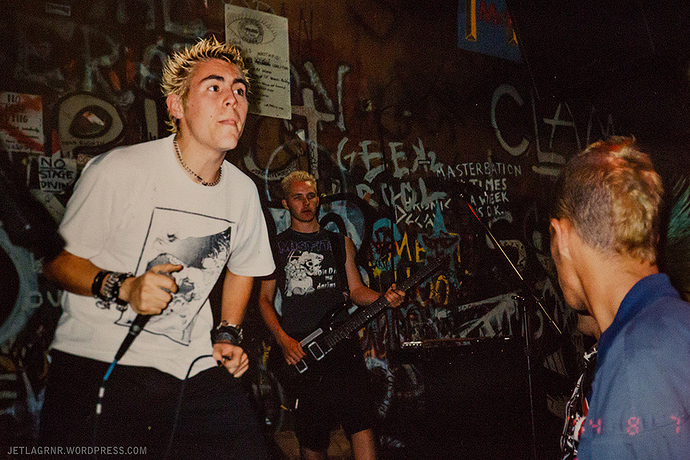 In order to book a show (at Gilman St) they had to get a booker on the phone between 2PM - 2:45PM. Davey would have to save up quarters in order to call on break at school. For weeks he would put quarters in and get the answering machine. Davey would leave messages to never hear back.
at Rancid, Total Chaos, Hellbillies, The Parasites, and A.F.I. show at 924 Gilman St. Berkeley, CA, May 14, 1994
Davey moved to Berkeley, California when he was 17; it was then when they were able to get shows in the Bay Area. Davey began working at Gilman St and because he worked there, AFI was one of two bands (Rancid was the other band) that were able to rehearse there. They could only rehearse there on weekends.
Around 1997, during the Shut Your Mouth and Open Your Eyes era, they realized they could not play at Gilman anymore due to crowd capacity. The Gilman could hold less than 400 fans, yet over 700 had been allowed. There was an instance where a fan had broken their leg and emergency responders could not easily get to the injured fan.
AFI had been touring Canada with Rancid in 1995. Thanks to Rancid, Davey mentions that their fanbase in Canada for Very Proud of Ya was stronger than most American venues. Davey mentions during the SYMAOYE era, their fanbase in America really equalized.
RANDOM NOTEs:
AFI's first music video was "He Who Laughs Last" from Very Proud of Ya. For the recording of this video, it was shot at Berkeley square. As an incentive, AFI provided FREE pizza and soda to those who came to attend and contribute to the video by enjoying the show… and the free pizza and soda. It was estimated that around 250 people showed for the recording. It was described as 150 hardcore kids up front enjoying their band while in the back of the show were 100 Crust Punks eating free pizza and "hated their band".
Very Proud of Ya was released at 924 Gilman St. Their record release show sold out.
Hunter entered into AFI during 1997, originally just to fill in since he was still playing bass in his band "The Force". Also, during this time Frank Vicario from Snapcase had been temporarily playing bass in AFI. However, Hunter went on tour with AFI (AFI paid Hunter $666.00 to join the band)… and a marriage was made. It all worked out though as Frank went back to Snapcase.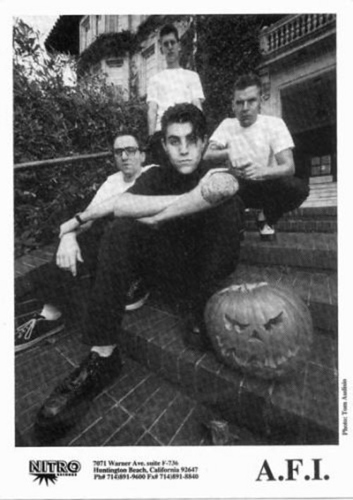 WIP
Source: