EDIT: Please read AFI's statement in the link below before purchasing these!

UPDATE: Preorder for the Dork repess is open! Click here to reorder the repressed 7"!
Thanks to @_tonibell for the heads up on this. Evidently, just like the represses of "Behind the Times" from '93 and "Eddie Picnic's All Wet" from Atom Age Industries… they are moving forward (or backward?) to repressing the Dork EP 7". Preorder starts this Friday, 06.30 on Atom Age Industries site.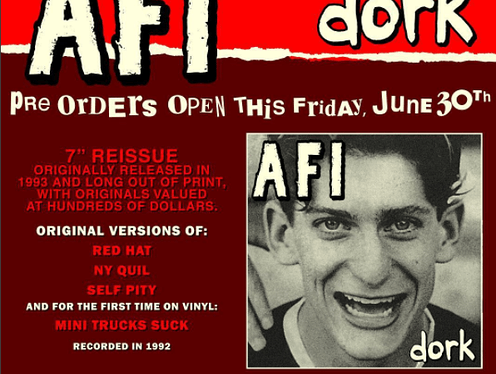 This will either serve as a slight relief for those of us who do not have the real "Dork EP" or it will further the reality gap of "I'll likely never have the real thing". Either way, this is cool and I plan to buy it.
As far as versions, I would not doubt that there will be limited versions… so yeah, heads up. Thanks again @_tonibell !